Camp Wapanacki was the first camp for the visually impaired in the United States. It opened in 1938 and was operated by the Institute for over 50 years.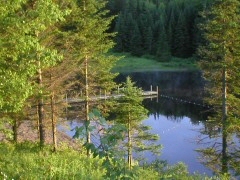 Merle Frampton was the Principal and in October 1937, he purchased Lake Wapanacki in the Green Mountains of Vermont near a town called Hardwick. It was 350 miles from New York City and 30 miles south of the Canadian border. The property comprised a 75 acre area with a large trout pond. At the time of purchase, a lodge and a boathouse were the only building on the lake. Later acreage surrounding the lake and controlling water supply was purchased.
Dr. Frampton and his wife operated the camp and after proving its value transferred the operation to The New York Institute in 1942. The school operated the camp as a part of its regular programs. At first, a full month's camping was given to boys and a full month to girls.
The camp was sold and Camp Wapanacki was operated by the Girl Scouts for a few years. The camp is no longer in operation. On Facebook, The Girl Scouts have
photos of the last campfire
.
For those Camp Wapanacki alumni, there is a Facebook group called
Camp Wapanacki (for the blind & visually impaired)
page where former campers can share their experiences at the camp or talk about recent visits to the camp.