Valentin Hauy 1745 - 1822
The starting point of modern education of persons with blindness is recognized to be 1771. A group of blind men from the home called Quinze-Vingts were exhibited at Saint Ovid's Fair; they had been given eyeglasses to wear, attired in a ridiculous manner and placed behind a music-rack on a balcony. What they produced on musical instruments was a "discorant symphony," but it allegedly gave joy to spectators.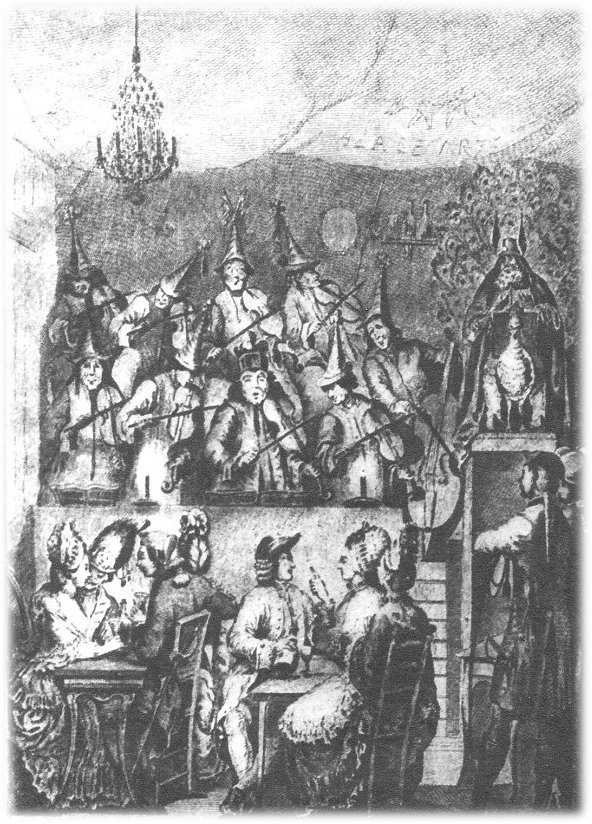 This image called "A Fair at St. Ovids" shows several ladies and gentlemen
at the fair while a group of musicians wearing pointed hats play violins.
Valentin Hauy witnessed the ridicule and was seized with a far different emotion. On this date he conceived the possibility of embossed letters for the blind. In his 1786 book, "An Essay on the Education of the Blind," dedicated to the King of France, Hauy writes: "we ordered typographical characters to be cast of the form in which their impression strikes our eyes, and by applying to these a paper wet, as the printers do, we produced the first exemplar which had till then appeared of letters whose elevation renders them obvious to the origin of a library for the use of the blind."