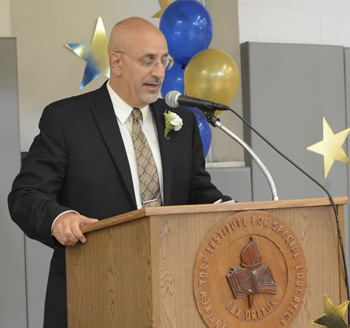 Currently, we have 50 elementary students, 45 middle school students, and 54 high school students. There is one teacher and one teacher assistant in each classroom. In addition to the classroom structure, there are also supplementary services. These are 2 physical therapists, 2 occupational therapists, 2 speech therapists, 6 orientation and mobility specialists, counselors (2 social workers and 2 school psychologists), 4 adapted physical education teachers and for the residential students 3 therapeutic recreation staff members. The program has twenty-six classes and is divided into three schools- elementary, middle, and high school and a vocational training department.
The program operates from Monday morning at 8: 00 am when buses begin to arrive through 4:00 pm Friday afternoon or not until the last student leaves. The school day consists of eight periods all forty-five minutes in length. Homeroom is at 8:15 am while the first period class starts at 8:23. There are two lunch periods for the students. The elementary and some middle school students have fifth-period lunch while the remainder of the middle and high school students will have sixth-period lunch. The end of the school day is at 2:47 pm.
However, that is not the end of the day for most of middle and high school students. We provide an extended day program for all middle and high school students to address the scheduling issues many of our students face. Extended day is an additional two periods and ends at 4:30 pm at which point school buses arrive to transport the day students' home. The residential students report to their assigned dorms where they either have a rest period, do their homework or room chores. Recreational programming for residential students begins at 2:50 each day and runs up until 9:00 pm.
We follow the NY State academic curriculum and learning standards and are held to the same diploma and testing requirements as our sighted peers. Our students must take and pass five Regents exams in order to achieve a high school diploma.
In addition to following the NY State academic curriculum, we teach the Expanded Core Curriculum. This is a curriculum specifically designed for students who are blind or visually impaired. The areas include compensatory or functional academic skills, orientation and mobility, social interaction skills, recreation and leisure skills, career education, technology, and visual efficiency skills.
Our students' primary disability is a visual impairment with no secondary disability on their Individual Education Plan (IEP). Their visual impairments are due to some of the most common causes of vision problems such as retinopathy of prematurity (ROP), glaucoma, congenital cataracts, and retinoblastoma. Two of our students are orthopedically impaired, requiring the use of a wheelchair.
We actively participate in research conducted by experts in our field. Throughout the years we have developed a close working relationship with many of the leading organizations in the blindness field and look forward to maintaining and enhancing our reputation as a leader in the education of students who are blind and visually impaired.