In 1894, after three years of effort,
William Bell Wait
invented the Kleidograph, a machine for embossing
the New York Point system
on paper. This now extinct reading code for the blind was the most popular one in the United States at the end of the 19th century. This version of the Kleidograph is a converted version that produces the modern 6 cell braille used around the world today. While the machine looks a bit battle weary, it is a survivor of what was called the
"War of the Dots"
. Many contentious battles were fought over which code best served the needs of persons with blindness.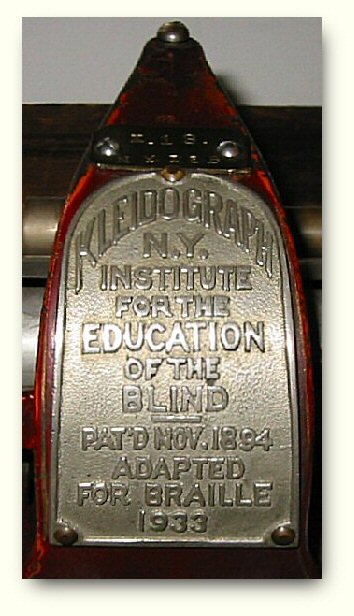 "Perhaps no controversy in our field has been as long lasting, or as intense, as the War of the Dots...one of the most contentious battles in that war--the fight between proponents of New York Point, a unique "point" or tactile writing system created by William Bell Wait of the New York Institution for the Blind, and those in favor of American Braille, a system that was based on Louis Braille's original code and similar to English Braille devised in part by Edward E. Allen of the Perkins Institution. "
Journal of Visual Impairment & Blindness , March 2006